Program Highlight: Play Therapy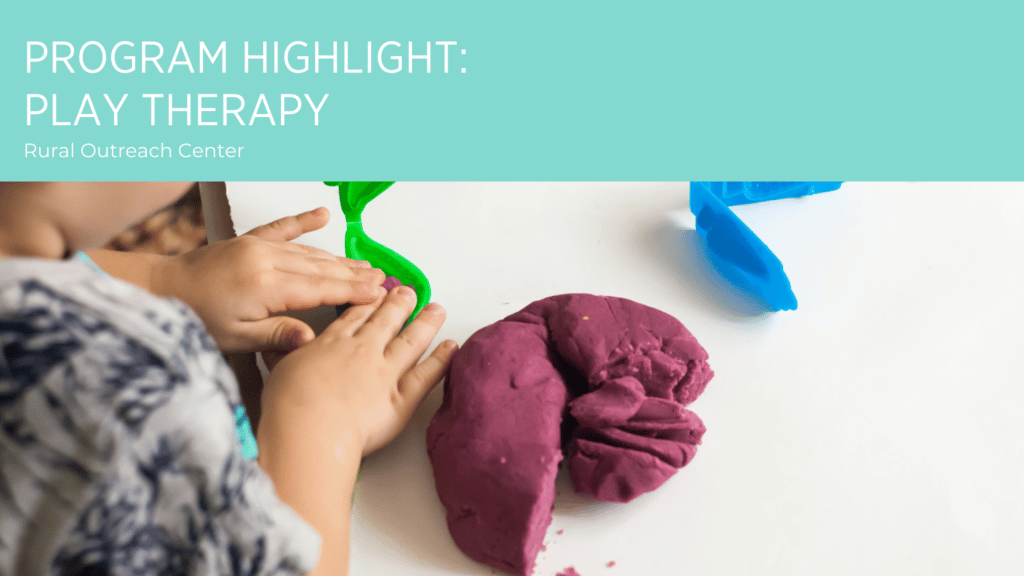 What do slime, pool noodles, and games of hide-and-seek have in common?
Believe it or not, they are all important components of play therapy here at the ROC! What may look like fun and games to most of us is actually how the kids who come to the ROC are learning to process their thoughts and feelings around what has happened to them. Play therapy supports a child's natural desire to express their experiences through play. It offers children who have experienced trauma a safe place to explore their feelings, all in a way that makes sense to them.
For young children, a play therapy session might involve using a sand tray with dolls and other miniatures to act out something they saw at home. Some kids like acting out grand adventures fighting dragons and other monsters with their pool noodle swords. Our more artistically-minded kids find healing in creating artwork that allows them to express their feelings in a visual way. Slime is popular with all ages – the more glitter the better!
"Play therapy is a creative way for children to express their feelings in a safe environment. Play therapy for kids is what talk therapy is for adults," Maria Knickerbocker, LCSW-R, RPT-S, says. Maria is a social worker and is trained specifically in providing play therapy to children.
Maria and the other social workers at the ROC provide play therapy to over fifty children at any given time. These children come in for a variety of reasons. Many have experienced loss of some kind, others carry mental health diagnoses, and some have been abused or neglected. In response, some kids act out, while others draw into themselves.
"I like coming to the ROC because I love my counselor," Hannah* told us recently. Hannah has been coming to the ROC for a few years now. She's grown from a frightened child, angry at the world, to a positive and cheerful young teenager. She sees her play therapy sessions as something fun – because even when she has some tough things to talk about with her counselor, she knows she's safe and supported.
Play therapy offers children like Hannah a chance to heal. As Maria shares, "Through their self-expression and play, they're able to process big emotions, challenging behaviors, and different types of traumas they've been through".
Through play, children like Hannah are learning important coping skills and healing from their pasts. It is an honor to see their confidence grow. Play therapy makes a difference for the kids here at the ROC.
If you would like to support the play therapy program at the ROC, please consider purchasing an item off our wishlist.