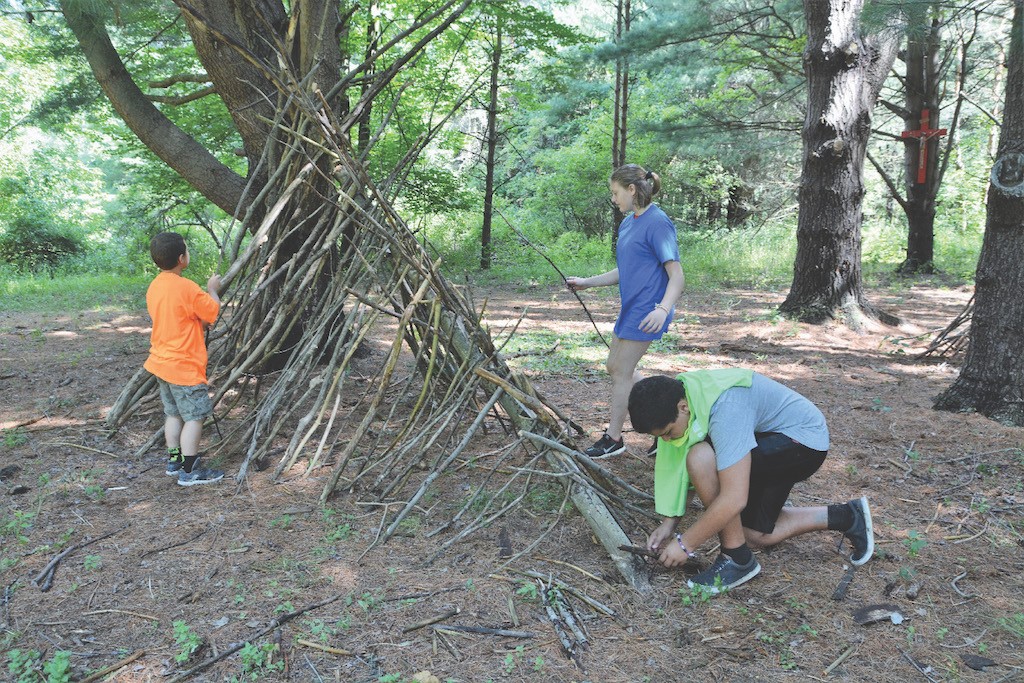 Summer Enrichment at the ROC: Playing to Learn, Learning to Play
Written by Rick Ohler. This article was reposted with permission. To view the original article, visit the East Aurora Advertiser.
They were a study in enthusiastic participation when I arrived—20 kids, ages five to 13, split into four groups, under properly distanced pop-up tents, each group sporting a different color T-shirt.
I would soon learn that the team names had been chosen by the members: the Purple Sillies, The Red Beatles, the Green Dragons and the Blue Beans. The project at hand was team flag painting, which was coming after a spirited team scavenger hunt throughout the meadow and woods of the Rural Outreach Center's (ROC) property on Olean Road, just south of the village of East Aurora. At separate picnic tables, the Sillies, Beatles, Dragons and Beans were collaborating on the painting, lettering, and decorating of a three-by-five-foot flag of white nylon. Lunch would follow the flag making, after which everyone was headed to the Healthy Zone Rink to finish out this first week with games organized by rink manager Scott More.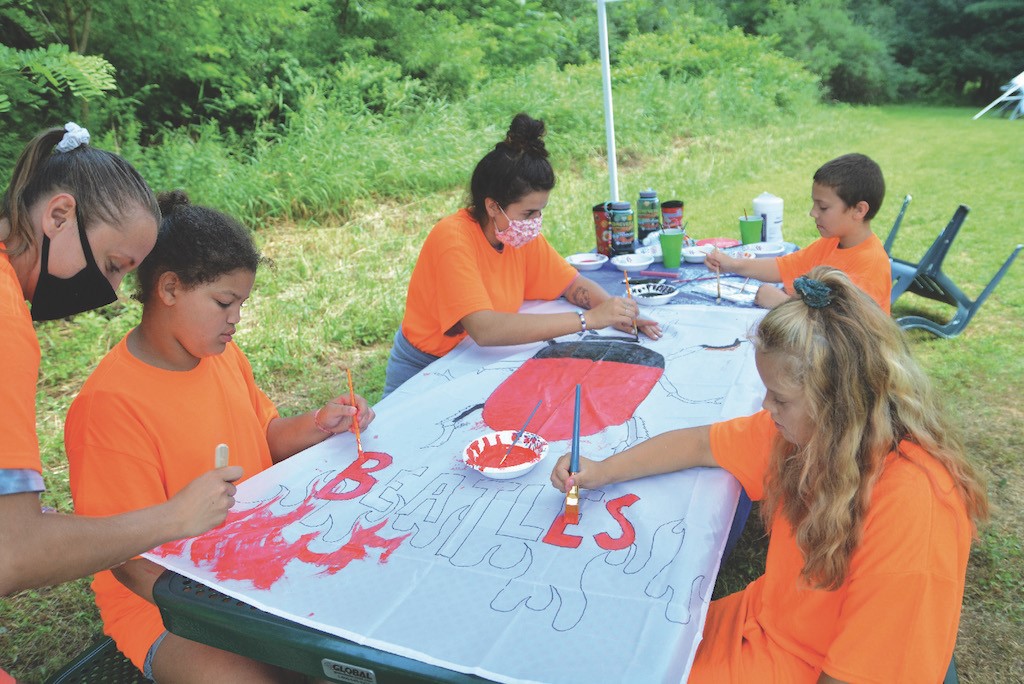 Team "Beatles" work on their banner at the Rural Outreach Center camp last week. Photo by Marty Wangelin
To the casual observer, it might have seemed like a day at a summer camp. But, I was cautioned right off the bat, that this was not just camp.
"No," said co-director Nichole Barett, "we call it the ROC's Summer Enrichment Program." While play is the idea, and there was plenty of that by the looks of things, Barrett stressed, "It's more of a curriculum-centered program, where the kids learn through play in all the activities we offer them."
Barrett is an adjunct professor of education and digital and video literacy at the University at Buffalo and a Ph.D. candidate, specializing in tech education for rural, underserved populations. She is joined by co-director Nick Waskow, a Niagara University graduate student in education with certification in grades kindergarten to ninth grade. The two put this summer experience together in just a few short weeks, when funding from the Ralph C. Wilson, Jr. Foundation became available.
They provided each group with a counselor and a team leader, for a basically three-to-one leader to camper ratio. In addition, several high school students have volunteered to help, earning community service credits and getting some valuable experience. Most of the campers come from the families of participants already involved with some of the ROC's empower, elevate and assist programs. ROC program director Amelia Leggett, who is familiar with most of the summer participants, set up the four teams.
There is no cost to families, and some assistance in the form of transportation or gas cards was made available from the Wilson Foundation.
Said Waskow of their playing-is-learning programming, "We have three stations for kids every morning: art and music; STEAM [science, technology, engineering, art and math], and tech and literacy where they're using iPads [supplied by the ROC]. We're hoping to develop classroom readiness and real-world preparedness without making it sound too much like school. We have more structured time in the morning, then afternoon is less structured with games, designed to develop a range of skills—imagination, dexterity and physical, cognitive and emotional strength while still having fun."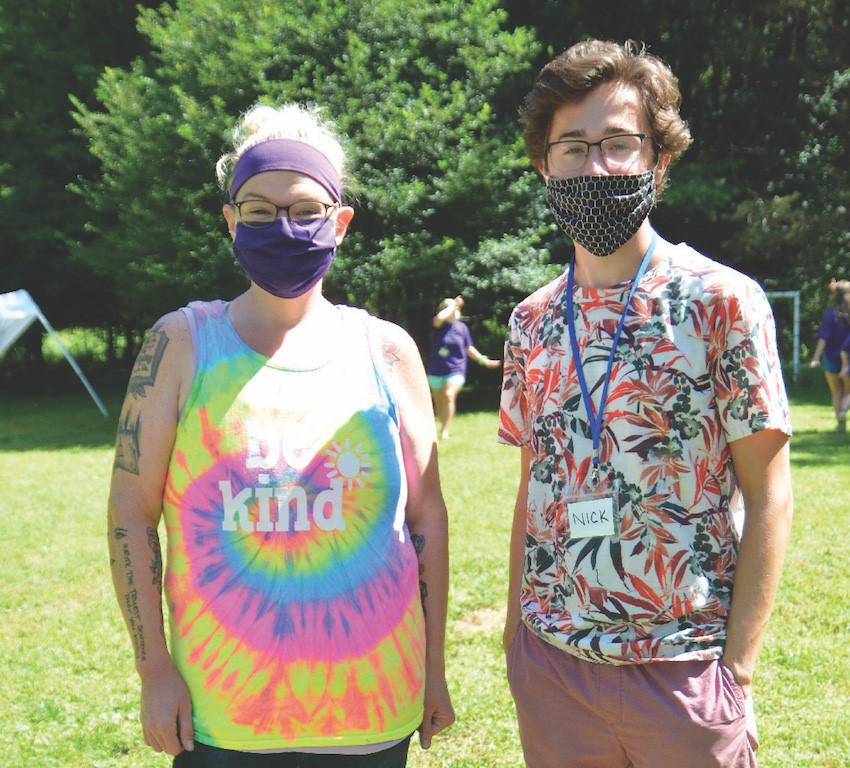 Camp Counselors Nichole Barrett, left, and Nick Waskow take a break from helping and inspiring campers at Rural Outreach Camp last week. Photo by Marty Wangelin
Several proud members of the program showed me an example of what can be accomplished in a short amount of less-structured free time. Fifty yards beyond the tent, in a grove of trees, each team had built a shelter or lean-to out of sticks they found in the woods.
"This was completely their idea," said Barrett. "They thought it up and made it happen. I've never seen them work so well together."
Another favorite free-time project is creating friendship bracelets out of beads, which the kids design, craft and then present to their new friends.
Dr. Frank Cerny, founder and director of the ROC, whose mission is to "empower self-sufficiency among people living in rural poverty in Western New York," provided some perspective to Barrett's and Waskow's work: "The Rural Outreach Center utilizes play programming to address issues of childhood trauma. Play is an essential part of normal childhood development, allowing children to use their creativity while. Play is also important to healthy brain development. It is through play that children at a very early age engage and interact in the world around them."
Childhood trauma, Barrett noted, "has been amplified during Covid-19 by the loss of the social and educational school experience, loss of family income, isolation due to quarantines and the lack of adequate resources, like internet access, in many situations."
Summer Enrichment at the ROC runs for four weeks, Monday through Friday, with a fifth week optional. The fifth week will focus on digital composition with more intense work on iPads. "The tech aspect of 'not-camp' is so awesome. I love putting technology in kids' hands and seeing how much they can do, how much they can grow, how much they can learn. These kids are making movie trailers, they're making comics, graphic novels.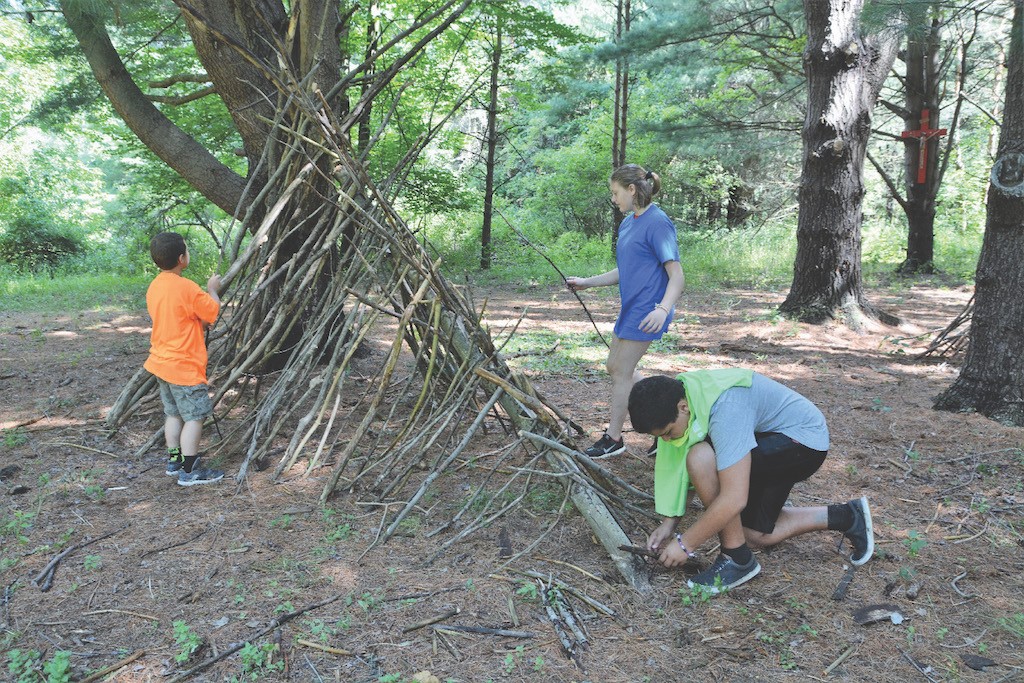 Area youth participating in the Rural Outreach Center camp learn wilderness skills by building their own stick shelters in independent groups. Photo by Marty Wangelin
With everything that's happened with Covid, technology seems like such a big important piece of their puzzle today and going forward."
"We are incredibly thankful for the support of the Ralph C. Wilson, Jr. Foundation and humbled by the generosity of their grant," Dr. Cerny added. "It is also very gratifying that they appreciate our mission of helping traumatized children deal with their traumas and provide some stability and normalcy in their lives. We are grateful that they join us in the support of play through a variety of unique and greatly needed programs."
Or, to put it in the words of one youngster I overheard, "Summer here, it's the best thing ever."
As photographer Marty Wangelin and I left the Summer Enrichment encampment, we were serenaded by the Purple Sillies' spirited, joyful rendition of Sheb Wooley's 1958 classic "One-eyed, One-horned, Flyin', Purple, People Eater." It's not camp; it's not school, but it was easy to see that the best of both worlds had come together at the ROC's Summer Enrichment Program.